Gentle Giant Award – Charles B. Wilson, M.D.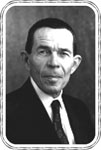 Charles B. Wilson, M.D.
University Of California, San Francisco
2002 Award Recipient
UCSF Professor Emeritus Charlie Wilson was honored on Saturday February 2nd 2002, in recognition of his outstanding contributions and dedication to the field of pituitary/endocrine medicine at the First Annual Gentle Giant Award Dinner.
The event was held at the Delancey Street Foundation, Town Hall, 600 Embarcadero, San Francisco.
Wilson is recognized worldwide for his surgical skills and commitment toward research and medical advancement. He has served on local, state and national committees and has served as a consultant in health care. Most notably, Wilson popularized and perfected the transsphenoidal approach to pituitary tumors by proving its effectiveness and safety. He has performed more than 3,300 transphenoidal surgeries for a pituitary tumor at UCSF Medical Center. His skills in surgery as well as in research have helped patients all over the world.
In 1968, Wilson was invited to UCSF to serve as professor and chairman of the neurosurgery division and to establish a laboratory for the study of brain tumors. By 1970, he had established the department of neurological surgery and the Brain Tumor Research Center (BTRC), a national cancer research center, which has been continuously funded by the National Institutes of Health since 1971. As director of the BTRC, Wilson realized an integrally related program of basic science and clinical research. The BTRC treats over 500 brain tumor patients each year, contributes extensively to basic and applied research in neuro-oncology, trains numerous neuro-oncologists and clinical and basic scientists in brain tumor research, and provides continuing education and consultation for private practitioners.
During the past few years, Wilson has redirected his primary focus to the organization and delivery of health care, in particular the challenges facing academic medicine in response to an environment of new market forces. He served as Senior Associate on Medical Affairs to the President of the University of California, in addition to his clinical practice at UCSF. In 1996, he obtained a Master's degree in Health Administration.
Wilson resigned as chairman of the department of neurological surgery and director of the BTRC in April 1997 to pursue these interests. In July of that year, he was appointed Senior Research Fellow at the nonprofit independent research organization, Institute for the Future in Menlo Park and San Francisco. He now serves as its director, providing expertise in areas such as novel medical technologies, academic medical centers, the future of health care and the impact of genetics and genomics on health and health care. Wilson authored an article, "The Hospital of the Future," which appeared in the September 2001 issue of UCSF Magazine.
Wilson earned his medical degree and received neurosurgical training at Tulane University, where he graduated first in his class in 1954.