When everything seems to be going against you, remember that the airplane takes off against the wind, not with it.
-Henry Ford
PNA Spotlight: Dr. Edward Laws
This month the PNA Spotlight focuses on Dr. Edward R Laws, MD, FACS, a Professor of Neurosurgery at Brigham and Women's Hospital (MGB) in Boston/Harvard Medical School. He also serves as Director of the Pituitary/Neuroendocrine Center in the Department of Neurosurgery at Brigham and Women's Hospital in Boston, Massachusetts. Boston, Massachusetts. Dr. Laws was kind enough to send us a letter about his career in the field of pituitary neurosurgery, which we reprint here in its entirety. Dr. Laws has been an integral part of the PNA since the beginning 30 years ago. We are grateful for his friendship and service.
My medical career began in 1959 as a first-year student at the Johns Hopkins School of Medicine. Among all of the new information and coursework, I quickly developed an interest in the anatomy, pathology, and physiology of the brain, and that interest never went away! In 1960, I was fortunate to have a great mentor for research on the nervous system, giving me a launching point for expanding my research interests to pituitary surgery and endocrinology, which has fully lasted as my favorite topic and source of effort.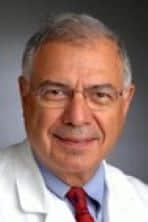 Medical Corner: Can Prolactin Protect You?
This month the PNA Medical Corner features an article co-authored by a longtime member of the PNA, Dr. Maria Fleseriu, a Professor of Endocrinology and Neurological Surgery and Director of the Pituitary Center at Oregon Health & Science University. The study looks the the use of the drug osilodrostat for treatment of Cushing's Syndrome and makes recommendations on best practices.
Treatment of Cushing's syndrome with osilodrostat: practical applications of recent studies with case examples
Maria Fleseriu , Beverly M K Biller 
Affiliations expand
• PMID: 36002784 PMCID: PMC9401199 DOI: 10.1007/s11102-022-01268-2
Abstract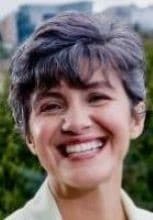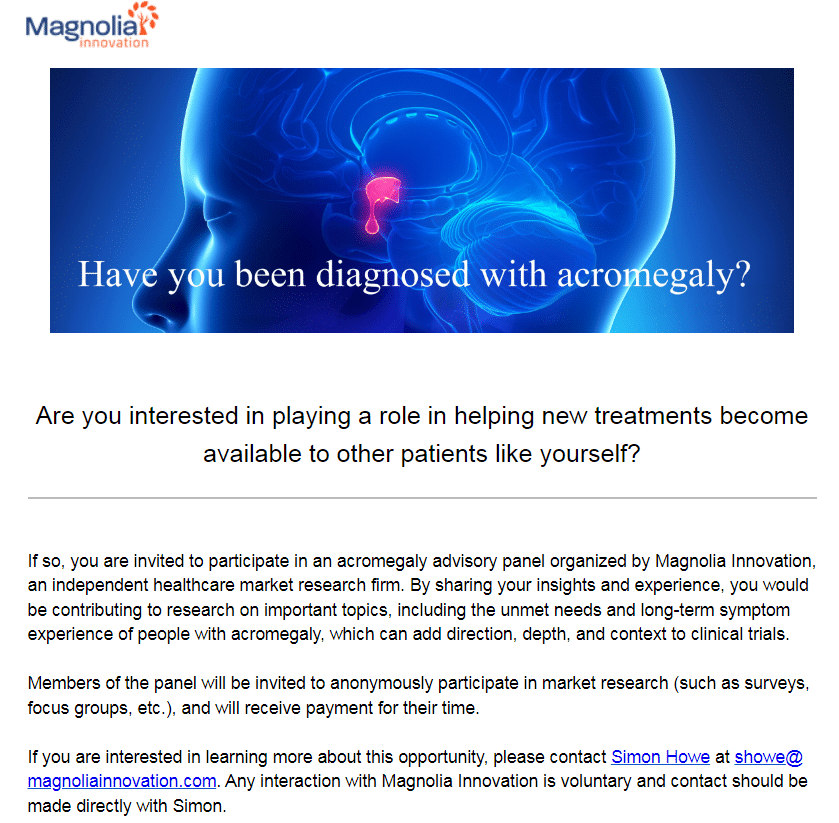 Please click on image above to contact Simon Howe.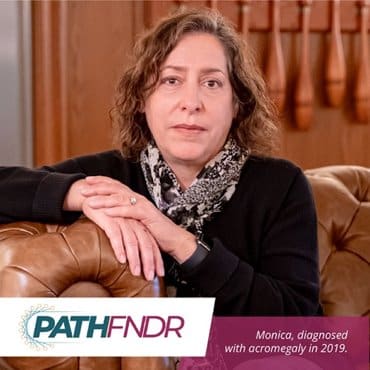 Investigational Studies to Evaluate the Safety and Efficacy of Paltusotine in Patients with Acromegaly
The PATHFNDR studies are recruiting patients to participate in clinical research for once-daily paltusotine for the treatment of acromegaly. If the studies are successful, paltusotine could be approved as a ONCE-DAILY, ORAL treatment option that gives patients an alternative to injections or twice-daily oral medications.
As a study participant, you could play an important role in advancing the options available for acromegaly treatment for yourself and many others living with this rare disease.
ABOUT THE STUDIES
The purpose of the PATHFNDR studies is to see if Crinetics Pharmaceutical's investigational medication, paltusotine, is safe and effective in patients with acromegaly.
PATHFNDR-1 is a randomized, placebo-controlled study designed to evaluate the safety and efficacy of paltusotine in
subjects with acromegaly treated with somatostatin receptor ligand (SRL) based treatment regimens. Clinicaltrials.gov
PATHFNDR-2 is a randomized, placebo-controlled study designed to evaluate the safety and efficacy of paltusotine in
subjects with non-pharmacologically treated acromegaly. Clinicaltrials.gov
1(855) 848-8486
Copyright © 2022 Pituitary Network Association All rights reserved.
Disclaimer: PNA does not engage in the practice of medicine. It is not a medical authority, nor does it claim to have medical expertise. In all cases, PNA recommends that you consult your own physician regarding any course of treatment or medication.
Our mailing address is:
Pituitary Network Association
P.O. Box 1958
Thousand Oaks, CA 91358
(805) 499-9973 Phone - (805) 480-0633 Fax
Email info@pituitary.org
You are receiving this Newsletter because you have shown interest in receiving information about our activities.
If you do not want to receive any more emails from PNA, Unsubscribe.