If you are able to see the interrelatedness of mind and body, sensitivity towards your body becomes much sharper. Therefore, maintaining of good health also becomes easier.
Lobsang Tenzin

PNA Spotlight: Dr. Luma Ghalib
This month's PNA Spotlight shines on Luma Ghalib, MD, F.A.C.E., a professional member of the PNA and an esteemed endocrinologist at The Ohio State University. Dr. Ghalib attended medical school at Baghdad University and completed a residency in internal medicine at Medical City Teaching Hospital in Baghdad. She then moved with her husband to New Zealand, where she did her initial training at Auckland Healthcare. She did a second residency in internal medicine at the Medical College of Ohio. Dr. Ghalib finished her endocrinology fellowship training at Chicago Medical School, part of Rosamund Franklin University. She then worked with Mary Washington Healthcare in Virginia as a consultant endocrinologist. Dr. Ghalib joined The Ohio State University in 2013 and she worked closely with neurosurgery and the ENT team to create a state-of-the-art Skull Base and Pituitary Clinic. She is currently an Assistant Professor in the Division of Endocrinology, Diabetes and Metabolism at The Ohio State University. She was kind enough to answer some questions from the PNA: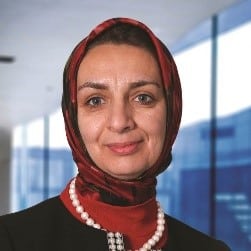 PNA Medical Corner: Quality of Life for Acromegalics
This month the PNA Medical Corner focuses on an article co-authored by two members of the PNA, Drs. Kevin Yuen and Ursula Kaiser. The study compared the quality of life for groups of acromegaly patients; one that received pharmacological therapy, the other that did not. They conclude that acromegalics who develop growth hormone deficiency have lower quality of life. They found that while pharmacologic or radiotherapy don't lower a person's quality of life, their overall quality of life is suboptimal despite biochemical control.
Pituitary. 2022 Apr 27.
doi: 10.1007/s11102-022-01224-0. Online ahead of print.
PMID: 35476257 DOI: 10.1007/s11102-022-01224-0