California Center for Pituitary Disorders at UCSF
400 Parnassus Ave., A-808
San FranciscoCalifornia94143-0350
United States
Phone: 866-559-5543
Website: UCSF Pituitary Center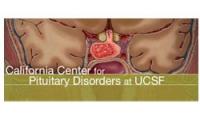 The California Center for Pituitary Disorders at The University of California, San Francisco (UCSF) is a multi-disciplinary center designed to provide comprehensive care to all patients with newly diagnosed and pre-existing pituitary disorders. Our program is built upon a strong foundation of decades of recognized excellence in neurosurgical and neuroendocrine care and research at UCSF.
We have assembled a team of dynamic physicians, all recognized experts and current leaders in their respective fields, who have considerable experience in the evaluation and management of patients with diseases of the pituitary gland and hypothalamus. Specialists within the disciplines of neurosurgery, neuroendocrinology, neuroradiology, radiation oncology, neuropathology, neurology, neuro-ophthalmology, and psychiatry comprise our working group. Center physicians are available for either consultation or assumption of care regarding diagnostic and management strategies for patients with pituitary tumors and other disorders of the hypothalamic-pituitary unit. We have devised and implemented unique strategies to permit the delivery of efficient, timely, state-of-the-art care to patients. We are committed to excellence in patient care, to the advancement of knowledge regarding all aspects of pituitary diseases, and to education and involvement of referring physicians in the care of their patients referred to our center.
Hormonally active adenomas
Acromegaly
Cushing's disease
Prolactinomas
TSH-secreting adenomas
Other pituitary tumors
Hormonally inactive tumors
Recurrent tumors
Craniopharyngiomas
Apoplexy
Rare pituitary pathologies
Rathke's cleft cysts
Hypothalamic tumors
Inflammatory diseases (hypophysitis)
Germ cell tumors
Hypopituitarism (loss of pituitary function)
Diabetes insipidus (DI)
Magnetic resonance imaging (MRI): Three 3T scanners and nine 1.5T scanners, all equipped with the most up-to-date software and protocols, produce high-resolution images.
Dynamic pituitary imaging: The pituitary region is rapidly scanned while a contrast agent is infused in order to observe enhancement of normal tissue in contrast to pituitary lesions. This technique is especially useful for identifying small tumors that may be difficult to discern from normal gland on standard images.
High-resolution 3D MRI: Ultrathin sections (< 1 mm) are obtained to increase sensitivity for small biologically active tumors invisible on standard radiographs.
In 2000, the direct endonasal approach for transsphenoidal surgery was developed at UCSF making this surgery even less invasive and greatly reducing surgical complications. More of these operations have been performed at UCSF than any other site in the United States.
Advantages to the endonasal transsphenoidal operation:
No intranasal or sublabial incisions
No nasal packing
Improved visualization and illumination with the use of an endoscope
85% of patients return home the day after surgery, regardless of tumor size
Complete removal of tumors as large as 5 cm
Large experience minimizes risk of recurrence or need for postoperative radiotherapy
Tumor is removed with preservation of the normal gland
Minimal blood loss
Low complication rates (0% mortality in over 1000 operations, <1% major morbidity)
New techniques to eliminate CSF leaks
---
California Center for Pituitary Disorders at UCSF
400 Parnassus Ave., A-808
San Francisco, CA 94143-0350
FAX: 415-353-2939
To refer a patient or schedule an appointment, please call 866-559-5543.
To schedule an appointment for an MRI, please call 415-353-2573.
Map & Directions:
California Center for Pituitary Disorders at UCSF
400 Parnassus Ave., A-808
San Francisco California 94143-0350
United States