Patient Story: Shifting Bite Leads to Diagnosis of Acromegaly
A story in the New York Times tells the story of a woman who kept having problems with her bite. The dentist filed her teeth but sent her for and MRI when the jaw shifted again. That's when a technician saw the tumor on her pituitary. Read more:
The Role of Computer Facial Analysis in Diagnosing Acromegaly
A new study from China looks at the use of computer facial analysis and machine learning to diagnose acromegaly. Researchers found that certain facial characteristics which can be identified with facial analysis (widening of the jaw, an increase of length and breadth of the face, a nose that has widened and moved up) can predict "the morbid state" with high accuracy. They conclude that facial analysis shows promise in the early diagnosis of acromegaly. Read more:
Can Psychosis Be the First Sign of Cushing's?
An article in Cushing's Disease News looks at a case study from Saudi Arabia where a woman with psychosis, in the form of auditory hallucinations, delusions and compulsive eating, was eventually diagnosed with Cushing's Disease. She underwent surgery for a microadenoma and eventually her symptoms eased. Read more:
Patient story: Optician Helps Diagnose a Pituitary Tumor
A story in the Mirror recounts the pituitary journey of a 21-year-old woman in the U.K. called Ellie Musgrove, who suffered from blurred vision and headaches. Her GP prescribed antibiotics and ibuprofen. When that didn't help, she saw an optometrist, who noticed swelling, suspected a tumor and referred her to the hospital. By that evening she was in surgery to drain a buildup of fluid caused by a pituitary tumor. She was diagnosed with Addison's disease. Read more: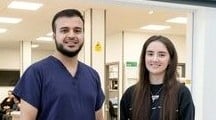 Caption: Optometrist Aqeel Mahmood with patient Ellie Musgrove (Courtesy Ellie Musgrove)