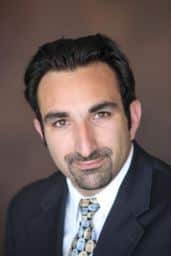 Assistant Professor of Neuroscience and Neurosurgery
Brain Tumor Center and Pituitary Disorders Program
John Wayne Cancer Institute at Providence Saint John's Medical Center
Biography
Dr. Garni Barkhoudarian is an Assistant Professor of Neurosurgery and Neuroscience at the John Wayne Cancer Institute at Providence Saint John's Health Center in Santa Monica, CA. Garni completed his undergraduate education at UCLA, majoring in
Microbiology and Human Genetics. He attended the University of Michigan Medical School, wherein he was the Edgar A. Kahn Neurosurgery Research Fellow. He completed his Neurosurgery Residency at the UCLA Medical Center. He then completed a fellowship in Pituitary Surgery and Neuroendoscopy at the Brigham and Women's Hospital and Harvard Medical School.
Dr. Barkhoudarian's clinical interests are minimally invasive skull-base surgery, pituitary disorders and tumors, benign and malignant brain tumor surgery, neuroendoscopy, adult hydrocephalus, trigeminal neuralgia and hemifacial spasm, and head injury / concussion. He is the director of the Adult Hydrocephalus and Neuroendoscopy program where he works with Dr. Daniel Franc to treat patients with normal pressure hydrocephalus (NPH) amongst other diagnoses.
Dr. Barkhoudarian has organized or participated in numerous educational conference and skull-base conference for pituitary and skull-base surgery in both the national and international forums including Japan, Italy, Egypt and Iran. He also educates the nursing staff and community on topics such as pituitary tumor surgery and patient management.
He is a volunteer faculty at the Pituitary endocrinology clinic at Harbor UCLA.
He has extensive research interests in pituitary disorders, including surgical outcomes, quality of life after pituitary surgery, preservation of gland function, advanced neuroimaging of the pituitary gland, headaches associated with pituitary tumors and advanced technology for pituitary surgery. He is the director of the Brain Tumor Center Skull-Base and Endoscopic Microdissection Laboratory. Dr. Barkhoudarian is involved in a number of clinical and translational research studies, evaluating the genetics, diagnosis, treatment and results of patients with malignant metastatic tumors, meningiomas, chordomas and pituitary tumors. He is also evaluating children as well as active and former NFL athletes with chronic, repetitive concussions and brain injury, with a specific interest in pituitary dysfunction. He has a special interest in the advancement of technologies for minimally invasive neurosurgical procedures.
Select publications:
Barkhoudarian, Garni, Aaron R. Cutler, Sam Yost, Bjorn Lobo, Amalia Eisenberg, and Daniel F. Kelly. "Impact of selective pituitary gland incision or resection on hormonal function after adenoma or cyst resection." Pituitary18, no. 6 (2015): 868-875.
Barkhoudarian, Garni, Aaron Cutler, and Daniel F. Kelly. "Transsphenoidal Surgery for Non-Adenomatous Tumors: Effect on Pituitary Function." InTumors of the Central Nervous System, Volume 12, pp. 235-245. Springer Netherlands, 2014.
Kelly, Daniel F., Charlene Chaloner, Diana Evans, Amy Mathews, Pejman Cohan, Christina Wang, Ronald Swerdloff et al. "Prevalence of pituitary hormone dysfunction, metabolic syndrome, and impaired quality of life in retired professional football players: a prospective study." Journal of neurotrauma 31, no. 13 (2014): 1161-1171.
Barkhoudarian, Garni, Alicia Del Carmen Becerra Romero, and Edward R. Laws. "Evaluation of the 3-dimensional endoscope in transsphenoidal surgery." Neurosurgery 73 (2013): ons74-ons79.
Little, Andrew S., Daniel Kelly, John Milligan, Chester Griffiths, Daniel M. Prevedello, Ricardo L. Carrau, Gail Rosseau et al. "Predictors of sinonasal quality of life and nasal morbidity after fully endoscopic transsphenoidal surgery." Journal of neurosurgery 122, no. 6 (2015): 1458-1465.