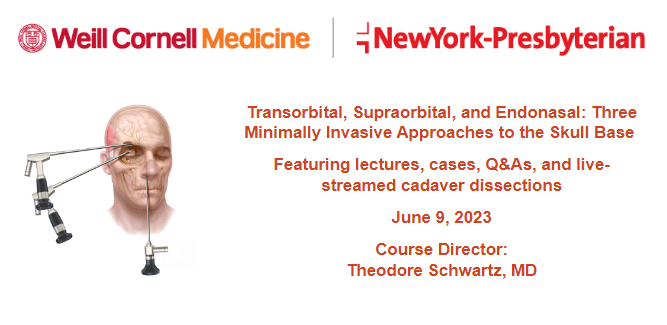 Transorbital, Supraorbital, and Endonasal: Three Minimally Invasive Approaches to the Skull Base is now open for registration. The course, which includes lectures, Q&A sessions, and live-streamed cadaver dissections, will be presented via Zoom on June 9, 2023. We would like to invite you to register today to reserve your place and take advantage of the early registration discount.
Click here for the full agenda, faculty list, and online registration.
Minimally invasive approaches to the skull base have revolutionized skull base surgery over the last two decades and have become one of the most important emerging trends in neurosurgery. This one-day online course will demonstrate key surgical steps and provide step-by-step instruction in three different approaches: endonasal, transorbital, and supraorbital. Through lectures and case presentations, then real-time cadaver dissection, the instructors will take participants through each approach and answer questions from the online audience.
Visit our online registration site for more information about the course, including the full agenda, faculty list, and fees. We hope to see you at the course!