Happiness lies first of all in health.
George William Curtis
PNA Spotlight: Dr. Andre Beer Furlan
This month the PNA Spotlight focuses on Dr. Andre Beer Furlan, a skull base and endovascular neurosurgeon at Moffitt Cancer Center and Assistant Professor of Oncologic Sciences at the University of South Florida. Dr. Beer Furlan got his medical degree and a PhD from the University of São Paulo in Brazil. He stayed at the University of São Paulo to complete a neurosurgery residency. He practiced as a neurosurgeon and skull base surgeon in Sao Paulo and then moved to the United States, where he did a second neurosurgery residency at Rush University. He also did fellowships in skull base micro-neurosurgery at Weill Cornell Medical College, minimally invasive cranial surgery at Ohio State University and neuro-endovascular surgery at Rush University. He is fluent in English, Portuguese, Spanish and Italian. Dr. Beer Furlan was kind enough to answer a series of questions from the PNA; here are his answers.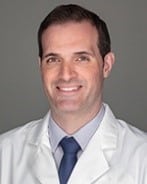 Medical Corner: Adult Growth Hormone Deficiency
This month the PNA Medical Corner features an article co-authored by multiple members of the PNA, including Drs. Kevin Yuen, Lewis Blevins and Maria Fleseriu. The co-authors have developed an algorithm that combs a database and predicts which people would benefit from further testing to see if they have Adult Growth Hormone Deficiency.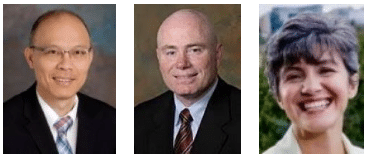 Development of a Novel Algorithm to Identify People with High Likelihood of Adult Growth Hormone Deficiency in a US Healthcare Claims Database
• PMID: 35761982
• DOI: 10.1155/2022/7853786
Abstract
Objective: Adult growth hormone deficiency (AGHD) is an underdiagnosed disease associated with increased morbidity and mortality. Identifying people who may benefit from growth hormone (GH) therapy can be challenging, as many AGHD symptoms resemble those of aging. We developed an algorithm to potentially help providers stratify people by their likelihood of having AGHD.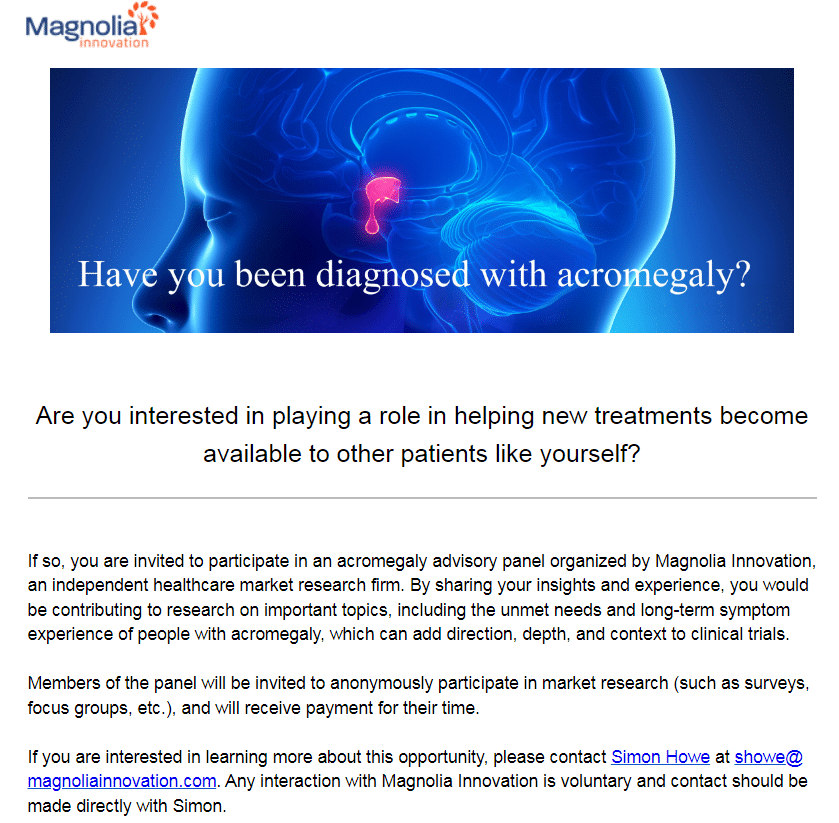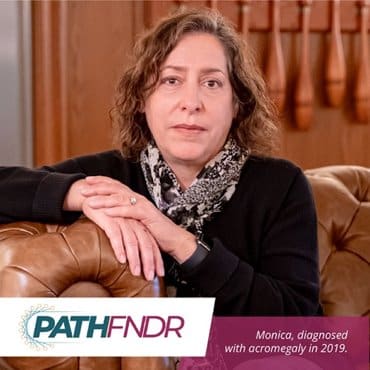 Investigational Studies to Evaluate the Safety and Efficacy of Paltusotine in Patients with Acromegaly
The PATHFNDR studies are recruiting patients to participate in clinical research for once-daily paltusotine for the treatment of acromegaly. If the studies are successful, paltusotine could be approved as a ONCE-DAILY, ORAL treatment option that gives patients an alternative to injections or twice-daily oral medications.
As a study participant, you could play an important role in advancing the options available for acromegaly treatment for yourself and many others living with this rare disease.
ABOUT THE STUDIES
The purpose of the PATHFNDR studies is to see if Crinetics Pharmaceutical's investigational medication, paltusotine, is safe and effective in patients with acromegaly.
PATHFNDR-1 is a randomized, placebo-controlled study designed to evaluate the safety and efficacy of paltusotine in
subjects with acromegaly treated with somatostatin receptor ligand (SRL) based treatment regimens. Clinicaltrials.gov
PATHFNDR-2 is a randomized, placebo-controlled study designed to evaluate the safety and efficacy of paltusotine in
subjects with non-pharmacologically treated acromegaly. Clinicaltrials.gov
1(855) 848-8486