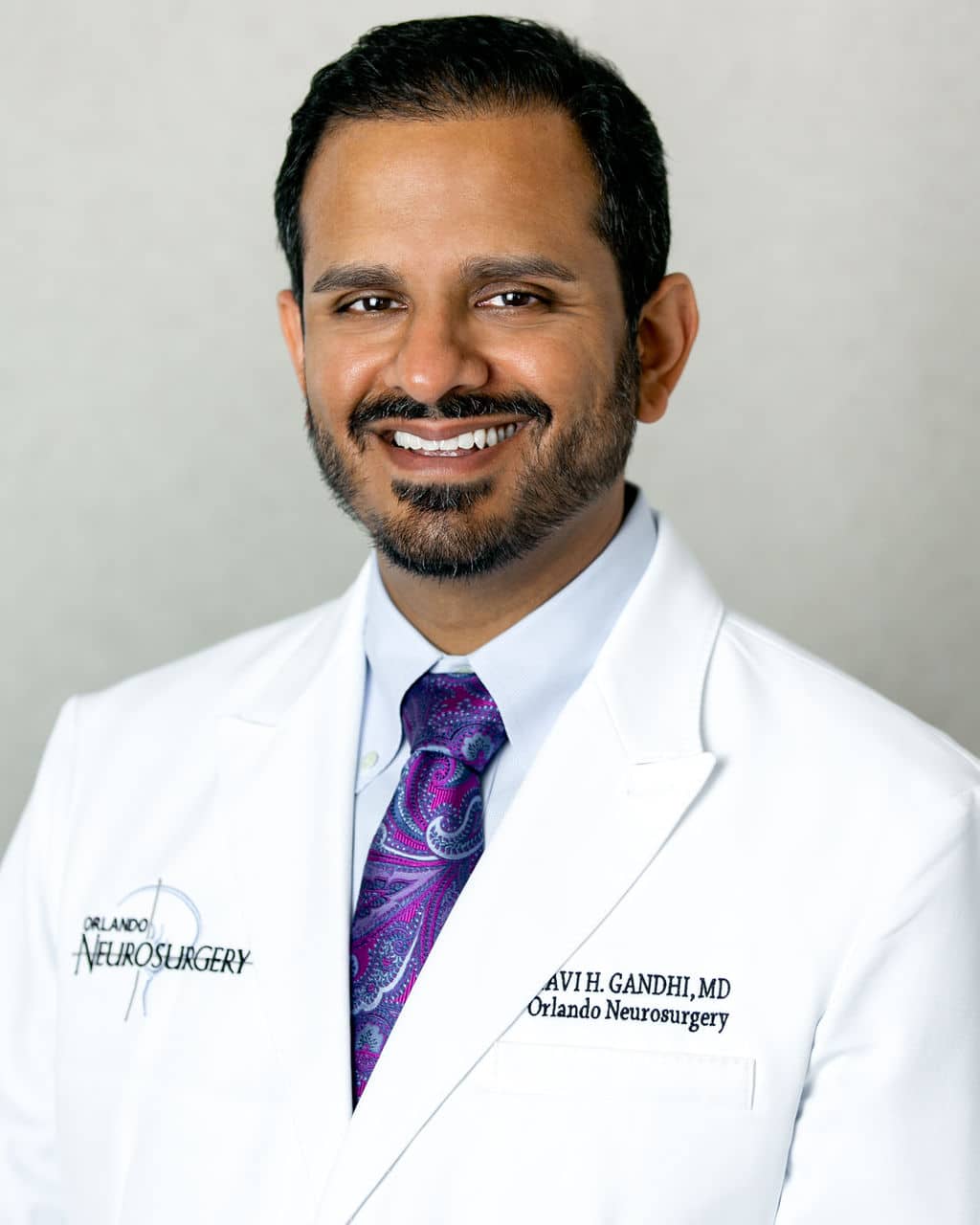 This month the PNA spotlight shines on Dr. Ravi H. Gandhi, neurosurgeon at AdventHealth Neuroscience Institute of Orlando Neurosurgery – Winter Park where he serves as Medical Director.  Dr. Gandhi  attended Johns Hopkins University from 1998-2001 and Saint George's University School of Medicine from 2002-2006,  His Internship, Residency, and Fellowship was at Albany Medical Center from 2006-2013.   Dr. Gandhi's profile can be seen  here.  He is certified by the American Board of Neurological Surgery. Dr. Gandhi answered some questions from the PNA.  Here are his answers.
What inspired you to choose your career path?
In fourth grade, my grandfather passed away from a stroke. As long as I could remember my grandfather he had had process on half of his body. I thought same time I read a fictional book which included a neurosurgeon as a character. It was at that time that I knew that I could help people That might end up with the same type of suffering that my grandfather had had. As time progressed, I learned more and more about what Neurosurgeon's did. I sought out every neurosurgeon I could you know elementary school to shadow them to pick their brains.
I never gave up on this dream throughout my school then college and then medical school. The more I learned about Neurosurgery the more I realize that I wanted to be amongst the ranks of Not just neurosurgeons but amongst the ranks of the best neurosurgeons
What is the primary focus of your work/research?
I specialize in minimally traditional and minimally invasive methods of treating complex brain and skull base diseases. I am a board-certified neurosurgeon who is fellowship trained in Cerebrovascular, Endovascular, and Skull Base Neurosurgery. My current areas of interest include traditional and minimally invasive methods of treating complex brain and skull base diseases such as Interiors skull base Tumors such as Pituitary Tumor's, brain tumors, trigeminal
neuralgia, and acoustic neuromas (vestibular schwannomas). I also treat cerebrovascular disorders of the brain and spine including aneurysms, arteriovenous malformations(avm), and carotid and verterbral artery stenosis predominantly minimally invasively with no incision.
What do you consider to be the future of your field?
Modern neurosurgery is a relatively young field of medicine. My expectation of our field in the future is that there will be more advances in surgical technology with better tools for Visualization Which would enable more minimally invasive approaches.
There will be more advances in neuro-oncology and fewer Brain tumors will require surgery.
What should patients know about your field/what deserves more recognition/awareness?
This is a difficult question to answer because there are so many facets to Neurosurgery. Patient should recognize that there are multiple subspecialties within Neurosurgery and seeking out care from people who specialize in your specific disease helps improve the success of your treatment.
In general, many tumors that we treat Are diagnosed very late in the course as the symptoms are often not recognized. This problem is getting better as access to MRI is improving.
What would you like to convey about yourself to your patients?
I only operate on family members. That is I consider every patient as I would a family member. I am tied to the success of each outcome as I would be for a family member.
I do not consider our practice of Neurosurgery to be a business. I am lucky to be part of a group of neurosurgeons who practice expert level neurosurgery in all subspecialties of neurosurgery and treat patients with the utmost in compassion.
Why did you get involved with the PNA; what is the extent of your involvement.
I have been an PNA member since 2018 having been inspired by their mission to disseminate information helpful to the medical community, the public and to pituitary patients and their families on matters regarding early detection, symptoms, treatments, and resources available to patients with pituitary disease.